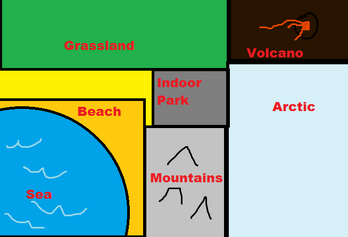 Landworld is a wide place with a little bit of everything. Highly reccomended for minor RPs. Landworld has numerous habitats and houses, and is a popular place to live.
Landmarks
Edit
In the center of Landworld, there is an indoor park with tons of windows for sunlight. This is the source of the grass for the grassland, the fish for the sea, ect.
The volcano area has a large, lava-proof dome that has many houses built in it. It also has some ice from the arctic, which is just south from the volcano, to keep things from getting too hot.
The mountains have the last Gray Gogoat.
The beach has numerous houses, and because the Indoor Park is right next to it, there are many materials. The beach also has a large rock that marks the edge of the beach.
The sea has a shiny Gyarados and clear water. Crystals are found at the bottom often.
In between the beach and grassland, there is a large construction site for an upcoming swamp habitat.
North in the arctic, there is a large gap that is used to drain lava if the volcano erupts to keep the arctic from melting.
The grassland is larger than most grasslands.